At the heart of Kleinpeter Equine Veterinary Services is our efficient staff who provide the high quality equine veterinary care clients have come to expect from us. Please click on the name of one of our staff members to find out more about their experience.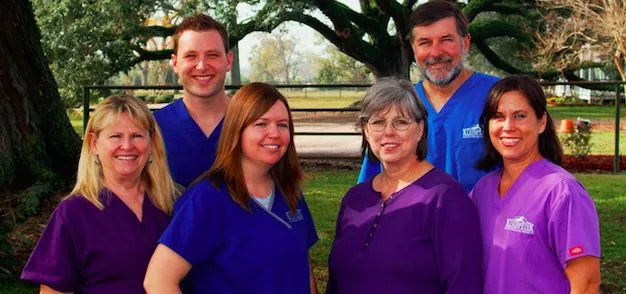 Dr. Kleinpeter's involvement with the equine community began at an early age. Reared in a family with deep roots in the Quarter Horse industry, he had the privilege of showing performance horses as a youngster and from there his lifelong love of horses began. A veterinary career was a clear and natural choice for him. Upon graduation from the Louisiana State University School of Veterinary Medicine, he began serving the needs of the Baton Rouge equine community in 1978. With valuable experience in all facets of equine practice, he now places special emphasis and focus in the areas of equine sports medicine and podiatry both locally and on a national level.

Dr. Clay Espey, a graduate of the LSU School of Veterinary Medicine, Joined our practice in 2011 after practicing equine medicine in the Lafayette, Louisiana area. Dr. Espey has roots in both the horse and cattle industry. He grew up competing in rodeo events as well as breeding and showing Brahman cattle on the national and international level. Dr. Espey's veterinary interests include preventative and emergency equine medicine as well as equine sports medicine.

Office Manager & Clinic Care Coordinator

Behind the scenes, is our office manager and client coordinator, Barbara Keller. She joined the practice in 2006. Barbara brings 23 years of health-care management and consulting experience to her position. Advising health-care clients on operational issues over the years gave her the ability to problem solve on a management level and appreciate the value of excellent customer interaction. Because Barbara has owned horses most of her life, she truly enjoys the daily contact with other 'horse people'.

Veterinary Technician

With over five years as an assistant for one of the largest Arabian training barns in the country, we were pleased to add Caroline to our staff in 2007. She was in charge of the horse's care, from everyday health maintenance, rehabilitation, and major medical emergencies. This provided Caroline the opportunity to work with some of the top equine veterinarians in the country. Before that, she spent over four years in the foaling barn and two years working in the training barn. In her spare time, Caroline competes with her own horses in Arabian and half Arabian shows around the country.